Coronavirus: Thousands volunteer to help NHS with vulnerable
Posted: Thu, 26 Mar 2020 12:00
The number of people who have volunteered to help the NHS in its fight against coronavirus has passed half a million, double the government's recruitment target.
Speaking at his daily news conference, PM Boris Johnson said all 504,303 could now play an "absolutely crucial" role.
The helpers are needed for delivering food and medicines, driving patients to appointments and phoning the isolated.
The scheme is one of a number aimed at relieving pressure on the NHS.
Mr Johnson said he a wanted to offer "special thank you to everyone who has now volunteered to help the NHS".
He added: "And to all of you, and all the former NHS staff who are coming back into the service, I say thank you on behalf of the entire country."
About 11,000 former medics have also agreed to return to the health service and more than 24,000 final year student nurses and medics will join them.
Stephen Powis, NHS England medical director, said there had been "outbreaks of altruism" and he was "bowled over" by the medics returning to the front line and the response from volunteers.
This comes as it was confirmed Prince Charles, the 71-year-old heir to the throne, tested positive for coronavirus after displaying mild symptoms.
He is now self-isolating at home in Scotland with the Duchess of Cornwall, who tested negative.
A Clarence House spokesman said it was not possible to know who he had caught it from due to a "high number of engagements" in recent weeks.
Figures released from NHS England show there were 28 deaths over the latest recorded 24-hour period, bringing the death toll in England to 414.
There have also been 22 deaths so far in Scotland, 22 in Wales and seven in Northern Ireland, according to the latest available figures.
The government scheme to recruit 250,000 helpers - who must be over 18 and in good health - went live on Tuesday.
By Wednesday morning, they had exceeded their target, after many thousands signed up to Good Sam, the group coordinating the response.
The help is being targeted at the 1.5 million people with underlying health conditions who have been asked to shield themselves from the virus by staying at home for 12 weeks.
Housing Secretary Robert Jenrick tweeted a photo of what he said was the first box of food and supplies ready to be sent out.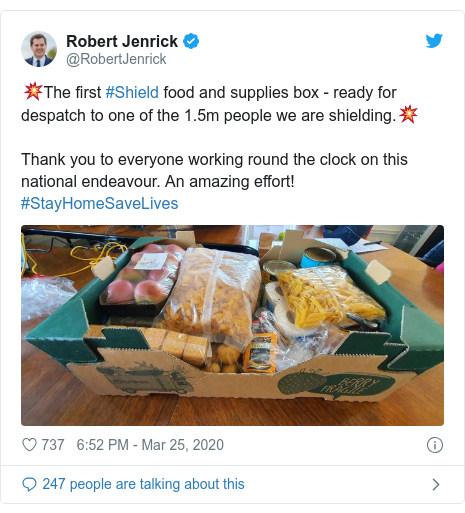 There are now calls to replicate the volunteering scheme - which is currently only for those in England - in Wales.
Meanwhile, Parliament has shut down until 21 April at the earliest, after sweeping emergency powers to tackle the coronavirus crisis were passed.
Health Secretary Matt Hancock told MPs the emergency legislation will allow "extraordinary measures" never seen in peacetime in the UK.